You are here: Home

»

Sets for a less price

»

4er sets Polish pottery tableware

0,00

EUR
› Basket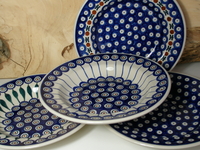 Dishes in the set of 4 from Bunzlauer ceramics
The high-quality Bunzlauer ceramic kitchenware sets consist of four dishes of the same shape, but with different decorations. This gives you the opportunity to buy four of the traditional patterns typical of Bunzlau at once. The Bunzlauer ceramic kitchenware sets are very suitable for collecting. So you can gradually assemble a complete ceramic service, from cups and plates to bowls and bowls to egg cups and napkin holders.
Bunzlauer ceramics sets of 4 order online
The Bunzlauer wholesale trade offers you an extensive selection of 4 sets of Polish Pottery. Collect the high-quality ceramics in the set and take advantage of the special price. Although the 4-packs are sold at the price of the second choice, they are often the first choice. If you do not have four ceramic pieces in the set, you will also find 6 sets and 12 sets.