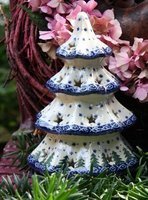 With this beautiful Christmas tree light from Bunzlau ceramics, Christmas spirit spreads throughout the room.
The candlelight flickers beautifully through the small openings and bring these harmonious Bunzlau designs in addition to the radiations.
This Christmas windlight is available in 2 sizes. In this section you will find the great Christmas trees with a height of 20 cm.
Both sizes can also be combined very nicely - a real christmas-like hingucker.
Or give away genuine handwork from Bolesławia - these windmills are always a great gift.
In the Ceramika Artystysczna pottery, the Bunzlau windmills are lovingly decorated by hand with brushes and sponges.
A wide selection of different Bunzlau ceramic patterns is for us at bunzlauergrosshandel.de self-evident.