You are here: Home

»

Ceramika Artystyczna

»

Saucer for cup, 21.5 x 13 cm

0,00

EUR
› Basket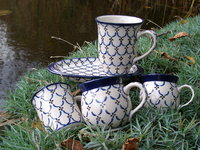 These beautiful Bunzlau ceramic saucers for cups are not only beautiful - but also practical. The oval format makes it easy to place a small piece of biscuits, biscuits or a praline next to the ceramic paste. The subordinate from Bunzlau has a size of 21,5 x 13 cm.
For us at bunzlauergrosshandel.de, these practical sub-contractors are available in a variety of Bunzlauer kitchenware designs.
In elaborate handwork, the Bunzlau ornament tableware are decorated by the pottery Ceramika Artystyczna in the city of Boleslawiec.