You are here: Home

»

Ceramika Artystyczna

»

Rabbit figure

0,00

EUR
› Basket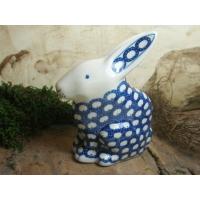 Easter can come - this beautiful ceramic bunny / rabbit from Bunzlau is about 13 cm high. The pottery Ceramika Artystysczna has been decorating the entire Bunzlau ceramics for centuries with elaborate craftsmanship using brushes, sponges and stamps.
You can find this beautiful Bunzlau ceramic tableware in our online shop among the various Polish Pottery categories - cat figurines, cheese lady, birds, cabinet buttons, dogs, espresso breads, crosses, complete service, kitchen boards, bread pot and incomprehensible much more. Look for yourself ...
The dishes from Bunzlau are of course also suitable for the dishwasher, the oven and the microwave.