You are here: Home

»

Ceramika Artystyczna

»

Cat

0,00

EUR
› Basket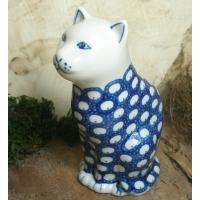 A beautiful, noble cat figure in Bunzlau decor can be found in this category. The Bunzlau ceramic cat is about 13 cm high - cats and Bunzlau fans will be delighted.
The pottery Ceramika Artystysczna has been decorating the entire Bunzlau ceramics for centuries in loving handwork. A lot of patience and precision is required.
Take a look at the beautiful Bunzlau patterns, in our online shop you can discover various Bunzlau products - rabbit figures, heart cups, birds, dogs, closet buttons, espresso breads, crosses, service, coasters, breadcrumbs and many more.
The Polish Pottery is of course also suitable for the dishwasher, the oven and the microwave.

15,17 €
instead of

26,00 €


You save: 41,67%
(

Base price

15,17  €  / piece

)